Foster Dogs or Cats
Fosters temporarily take care of animals that have been rescued from high-kill shelters. Foster families give these cats and dogs basic care including feeding, socializing, and sometimes medication as needed. Foster homes provide a safe, warm and comfortable place for these pets to recuperate and eventually be placed with their permanent adoptive families.
Fostering is the foundation of the rescue work we do and is the reason we can save lives. A.R.F.-Animal Rescue Foundation is an all-volunteer organization and all our rescued animals stay with foster homes or in the Wheaton or Darien PetSmart Adoption Centers until they have been treated, socialized, and are healthy enough to adopt to their forever homes.
All our pets are cared for in our fosters' homes or PetSmart Adoption Centers. Without the generosity of our fosters, we couldn't have rescued more than 1,200 homeless cats and dogs we found homes for in 2020.
A.R.F. provides the food, toys, supplies, and pay for all approved vet bills. All you need to provide is shelter and love.
To get start saving lives, fill out a volunteer interest form.
Still have questions about becoming a foster? Visit us at one of our adoption events to ask our fosters about their experience or see our foster FAQs.
Learn More About Dog and Cat Fostering
The below webinar was recorded as part of a virtual adoption event series with Bolingbrook Events on February 27, 2021. This 21-minute video talks about what is involved with fostering for A.R.F., what makes the perfect home to foster a dog or foster a cat, and how you can help homeless animals.
Learn More About A.R.F.
Meet some of our Dog and Cat Fosters
Kim, Bolingbrook, IL
My Facebook page is called "It Started With One Foster Cat" and implies that as time goes by, my number of foster cats will increase as well! After adopting a cat from A.R.F. in 2016, I wanted to volunteer in some way so I began helping at adoption events. It took me almost two years to convince my family to bring in a foster cat, so now I finally get to do that, too.
Katie, Glen Ellyn, IL
The people at A.R.F. were incredibly kind and helpful when I was looking for a new dog. I bounced around the idea of fostering dogs for a long time, and decided to take the plunge after getting my dog from them. A.R.F. never pushed me to take more than I was comfortable with. They asked the kinds of dogs I was comfortable with and what sizes of dogs I'd like. Also, with my work schedule I can only dedicate a few weeks at a time for fostering and then need a break. And that's ok for A.R.F.! I get the wonderful experience of helping dogs find the family they deserve while not worrying should something come up.

Gloria, Wheaton, IL
I enjoy having cat butts in my face. But no really, I adopted my kitty from A.R.F., then started volunteering to help with social media and marketing. A bit later, I also became involved in dog adoption events, though my first love is cats (sorry dogs…. #NotSorry). When A.R.F.'s cat coordinator asked for emergency fosters a while back, I raised my hand to foster one. Nearly 70 fosters later, I'm so happy I continued to foster and didn't stop at one. Seeing updates on the lives of my fosters after they are adopted makes the challenges worth it. Fostering isn't always easy, but it is always rewarding.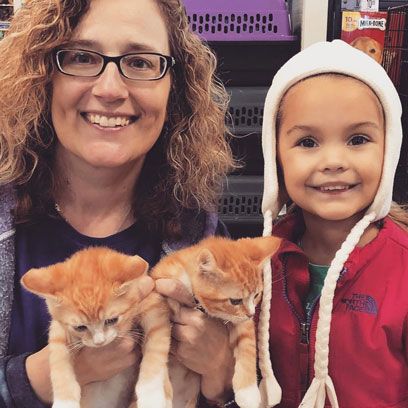 Susan, Bolingbrook, IL
I have a lot of cats of my own. A lot of cats, and we could absolutely not adopt any more. But I loved taking care of the kittens and helping them grown and learn. I stumbled onto The Critter Room where he was livestreaming his fosters, talking and interacting with the viewers. I thought, "I should do that!" I mentioned to our vet that we were thinking about fostering, and they said one of their techs was fostering with A.R.F. and I should look into them. So I did. And they said sure, come foster. And we did, with livestreaming at @Kittenville.il. Read more about my cat fostering adventures on my 300th adoption interview.
The G Family, Downers Grove, IL
It all started for us about 4 years ago with a dog named Buttons. We stopped in to PetSmart for some dog food and stumbled across an adoption event where my daughter met Buttons. She grabbed an A.R.F. flyer, learned of other adoption events and needed to check on Buttons. After visiting several we were asked if we'd like to volunteer and I t wasn't long after that we were approached to foster. It has been a wonderful experience and our family has helped over 75 dogs find new homes. Each foster is a little different and watching their personalities blossom each day as they settle in and feel safe and loved is so rewarding. You would think the hardest part of fostering is letting your fosters go, but it is actually not being able to rescue the many, many more that are caged up in shelters. If you have ever thought of being a foster, give it a try. You won't regret it.

Ready to start saving these pets? Fill out our volunteer interest form and we'll contact you.