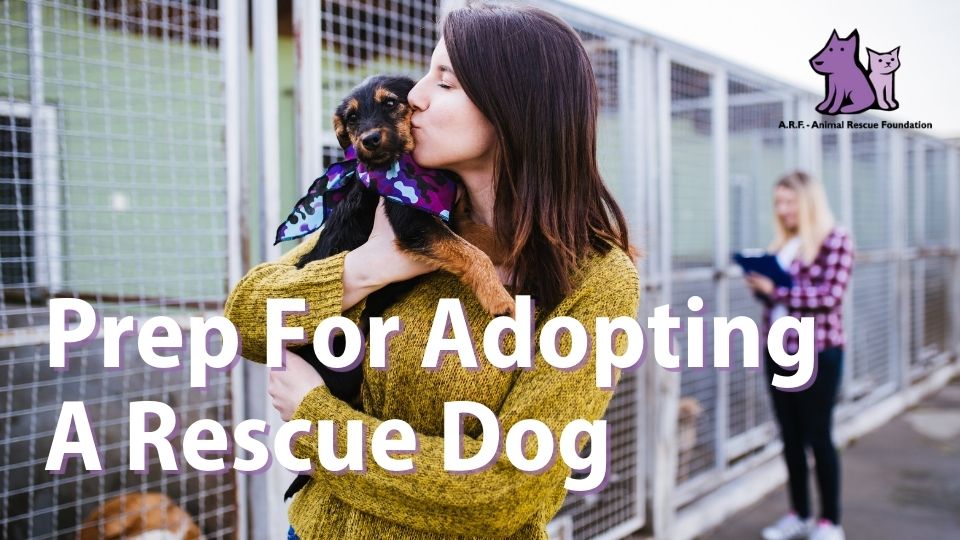 How to Prep for Bringing Home a Rescue Dog
Adopting a rescue dog is a wonderful thing, but it certainly comes with its challenges. Neither the dog nor its new humans quite know what to expect from each other. Almost ten percent of adopted dogs get returned back to shelters, with a large percentage being returned within the first few months after adoption. The first few days, weeks, and months of ownership are a crucial time for people to develop trust and set boundaries with their rescue dog. But how is this done? To help future dog parents out there, A.R.F.-Animal Rescue Foundation has compiled some tips on how to prep for bringing home a rescue.
Get Ready for Your Adopted Dog or Puppy
Before you bring your dog home, you'll want to make sure that everything is set up ahead of time. When your dog arrives, they'll have the best chance of feeling comfortable and safe.
Clear your schedule as much as you're able. Take at least three or four days off to begin bonding with your dog, if not a week or more.
Remove hazards from the dog's reach, like cleaning products, choking hazards, and toxic plants.
Designate a small room or area of your house to keep your dog in when unsupervised. This can help your new dog feel less overwhelmed in their new environment, and reduce the amount of mischief they can get into while still being housetrained.
Research vets in your area to find one you like and keep their contact info handy.
Research dog sitters and doggie daycares to find ones you like. Though you should avoid leaving your dog for too long at the beginning, it's important to have backup just in case.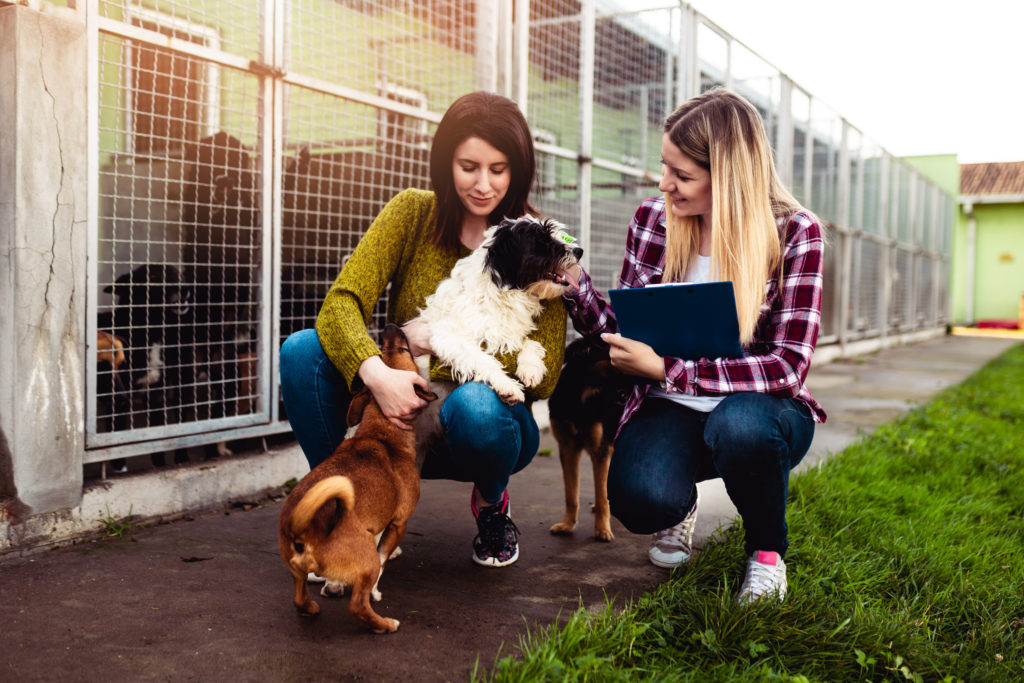 New Rescue Dog Supplies
Make sure you stock up on all the doggo essentials below. And for a few expert product recommendations, check out our Ultimate Pet Gift Guide!
Baby gates/playpens – make sure they are secure enough for large dogs or chewers
Crate–make sure it is large enough for them to stand up, lay down, and turn around in.
Blanket and towel or two that you are okay with getting muddy/dirty
Dog bed
Dog tags and collar (don't forget to register your microchip!)
Leash and walking equipment (for example, a harness to help with pulling)
Poop bags!
Food and water bowls
Healthy food–ask a vet for recommendations based on size, age, and type of dog.
Lots of treats in a few different brands and flavors to find out what they like 
Toys and brain games (like treat balls or puzzle feeders)
Chew toys and bones
Dog first aid kit
Dog toothbrush and toothpaste*
Grooming supplies and nail clippers*
*Don't try to brush your dog's teeth or clip their nails right away, wait until you have a bond of trust.
Patience and Realistic Expectations
One of the most important things to remember when bringing a shelter dog home is PATIENCE. It takes time for a dog to adjust to a new environment. They don't know where they are, why they're there, or who you are. Naturally, they may be a little anxious, aggressive, or overexcited. Their true personality may not reveal itself right away, so don't get discouraged if you and your new dog don't get along immediately.
To start off:
Exercise your dog with lots of long walks, but avoid the sensory overload of dog parks.
Give them lots of mental stimulation in the form of enrichment toys and chew toys.
Give them frequent potty breaks (some recommend every hour), and reward them with praise and treats when they go. Even if they don't have to go each time, they will start to understand that outside is where the bathroom is. This is especially important with shelter dogs, who may have done their business in a kennel before living with you.
Don't rush pet introductions if you have other pets at home, and don't leave the new dog unsupervised with your other pets.
Be patient if they have a "weird" fear (stairs, heavy boots, a specific room, etc). Don't push them before they are ready, build trust first and then slowly work on it with them.
Give your dog a cozy safe space that's all their own. You can do this with a crate, a dog bed, or a sectioned off portion of the house.
If crate training, do it slowly. Make sure your dog understands that the crate is a safe place before leaving them alone in there for long periods of time.
Set boundaries right away. For example, if you don't want your dog to go on the couch, enforce this rule right from the beginning.
Set a consistent routine so they know what to expect out of their day.
A great time to start building a bond with your dog may be right when you wake up and right before you go to bed, even if it's just for ten minutes at a time. This imitates the behavior of feral dog packs, who sleep really close together for protection and warmth. Sit with them calmly and give them lots of pets, praise, and treats.
The Rule of Threes: 3 Days, 3 Weeks, 3 Months
Remember the Rule of Threes, which marks milestones during the adjustment period after adoption:
Three Days: Your dog is still stressed from the move, and needs time to decompress. Don't overstimulate them with too many new people, animals, or situations.
Three Weeks: Your dog is adjusting to their new routine. Their personality starts coming through. You can start to identify any behavior problems that will need training.
Three Months: Your dog is comfortable with its routine, and understands this is their home now. They are developing a bond of trust and affection with you.
After the three-month marker, it's normal if your dog might still need some training, especially in shelter dogs over a year old (Milestones After Adoption). Remember, training requires time, patience, and trust.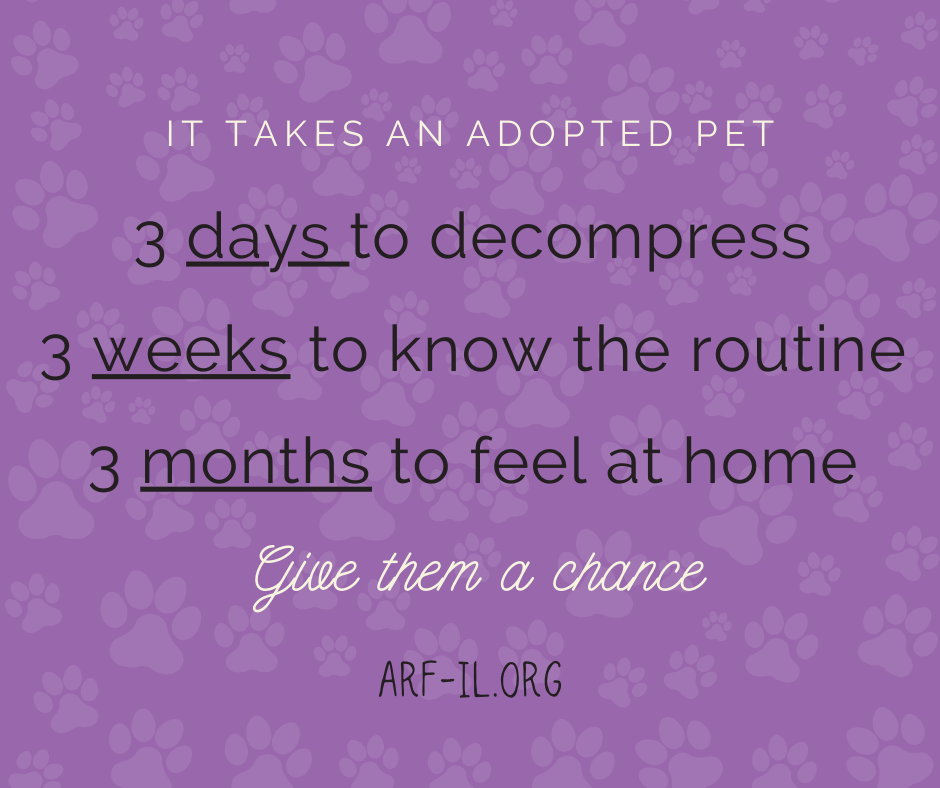 Adopt a Rescue Dog in DuPage County
If you have questions about our adoptable dogs and puppies for adoption in Wheaton or our dog adoption process, A.R.F. is here to help! And don't forget, if you are shopping for pet supplies for your new rescue on Amazon, you can set the A.R.F.-Animal Rescue Foundation as your Amazon Smile Charity to donate .5% of the sale to pets in need at no cost to you!
Additional Resources