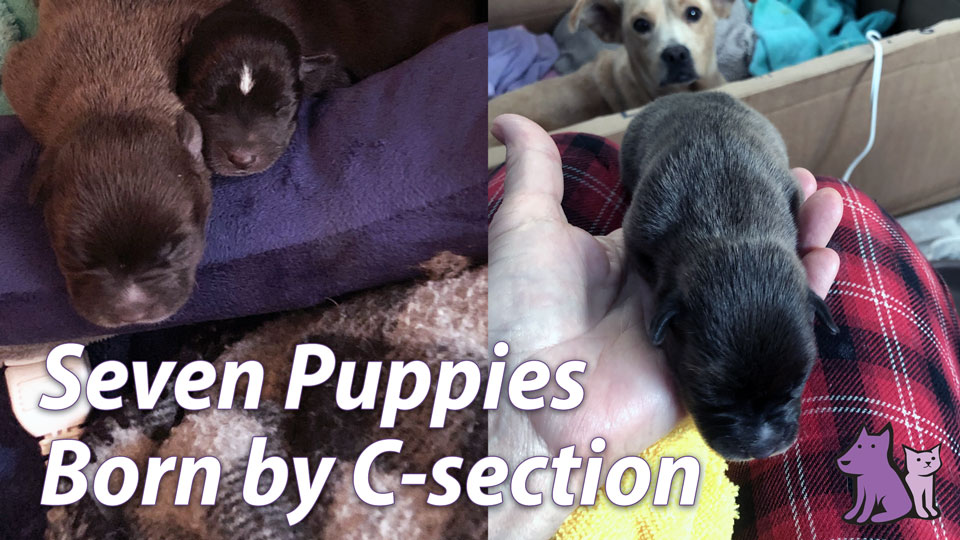 Happy Tail: Kara and Her Labor of Love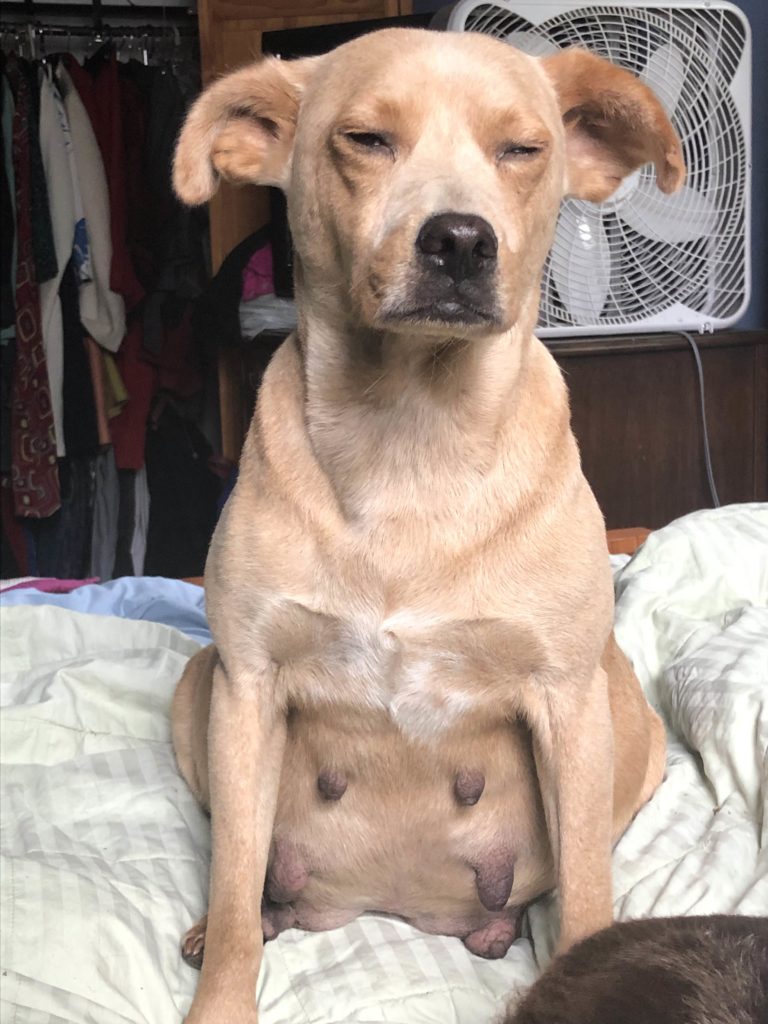 Kara is a petite one-year-old Labrador Retriever/Terrier mix. She was homeless and was picked up as a stray dog in rural Kentucky. She was already obviously pregnant, but didn't have anywhere else to go other than the shelter. Kara waited in the shelter on "death row" for weeks, hoping that somebody would save her. She was scared and alone, but pregnant and starting to get uncomfortable.
Unfortunately the sad reality is that even pregnant mama dogs are at risk for euthanization if they are not adopted or rescued in time. Shelters everywhere are crowded, and once the homeless pet's time is up there is no choice but euthanization regardless of if they are pregnant. But luckily for her, Kara was pulled by Jellystone Park's transport crew. She was loaded on to a transport van filled with crates of other dogs, and driven many hours up to Wheaton, IL. The drive was a very long day, but it was worth it to get to safety and her A.R.F. foster home's loving care.
Kara Goes Into Labor
Kara went into labor on the morning of October 19. Her A.R.F. foster mom, Carol, attended to the birth but it was clear that things weren't progressing as they should. Kara had only given birth to one puppy by 3:00 PM and she was obviously in distress. Carol rushed Kara and the one puppy over to A.R.F. veterinary supporter Wheaton Animal Hospital for help.
Wheaton Animal Hospital (WAH) performed an emergency doggy C-section to save Kara and the puppies. This extraordinary procedure is pretty rare for non-purebred dogs; A.R.F. has only had three canine C-sections in the last 10 years. The vets and vet techs at WAH were wonderful and delivered the other six puppies, for a total of seven puppies delivered. Unfortunately, two of the seven had congenital birth defects and did not survive the delivery. This is common when a mama dog has more than one litter in a year and occurs more frequently in litters born in the fall/winter.
Recovering from the C-Section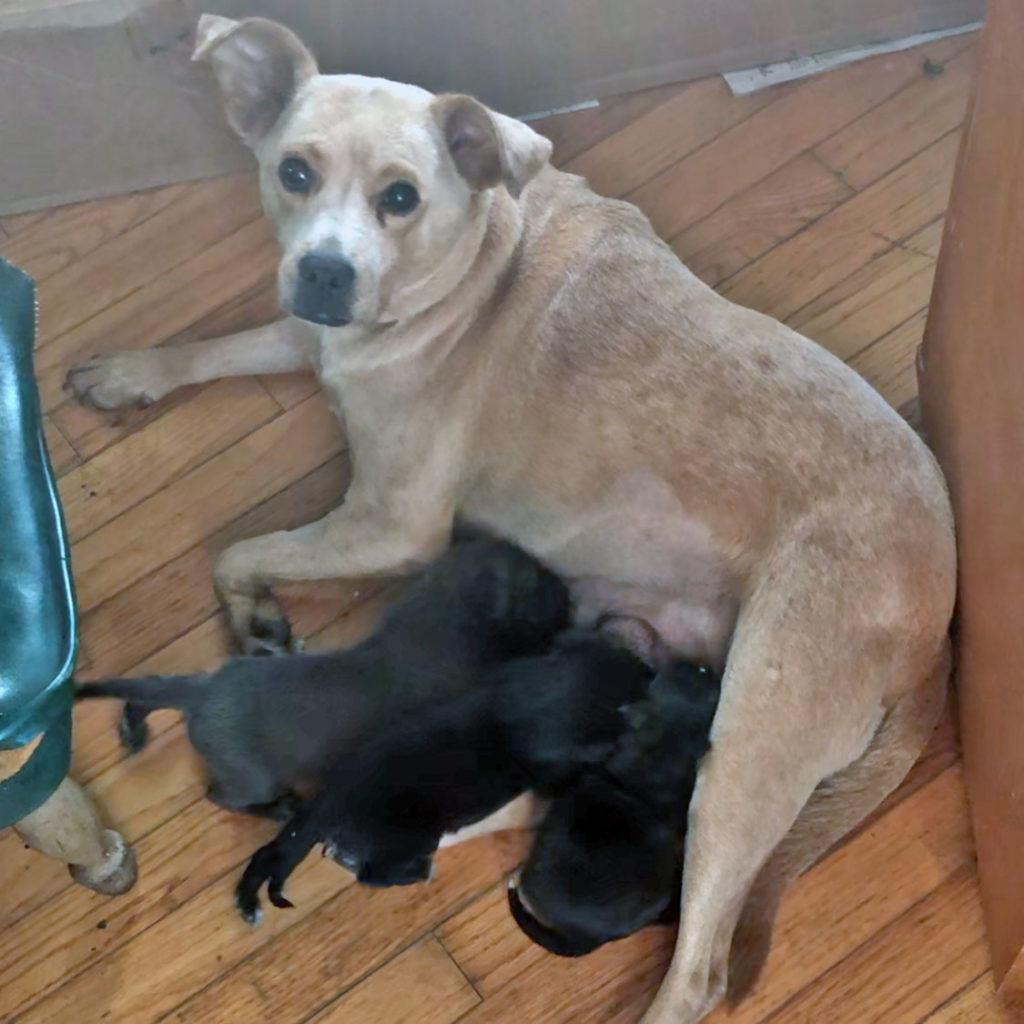 Once Kara and the puppies were back at home and recovering, they still weren't out of the woods yet. Two more puppies weren't healthy and didn't survive the first few days, and Kara was not producing enough milk for the other three. A.R.F.'s medical team swung into action, and volunteer Darcie quickly gave Carol a crash course on how to bottle feed puppies. Carol cared for the remaining puppies around the clock, supplementing them with puppy formula from a bottle every three hours and making sure mama Kara had a never ending supply of healthy and nourishing food.
Carol weighed the puppies every day to ensure that they were gaining the correct amount of weight. She realized that the smallest one, a black female named Karma, wasn't gaining weight as she should be, so Carol began further supplementing Karma with wet puppy food until she caught up to her brothers.
Day by day, the puppies grew bigger, started walking, and then playing with each other. Kara slowly started weaning her babies and spending more time away from them and practiced some self-care to get herself ready for adoption. Krypto, Kobe, and Karma started running through the house, the yard, and everywhere they could. When they were eight weeks old, they were spayed/neutered and given a clean bill of health at Spay Illinois, and then they were ready for adoption! Their big day was finally here – they were ready for their forever homes.
Mama and Puppies Go Home
Mama Kara and her three puppies all were adopted on the same day – December 26, 2020. They all were placed with the perfect families. Kara went home with a large family with kids who will play with her all day. The puppies went home with large and small families who will give them just the right level of attention for the puppy's personality.
Kara's new family says "Kara is doing great. We kept her name. She has really warmed up to me and my wife and is still feeling out the kids. She has the run of the house and really loves to get petted and snuggle all the time. She's up to around 3 miles of walks per day." What a great ending to Kara's story.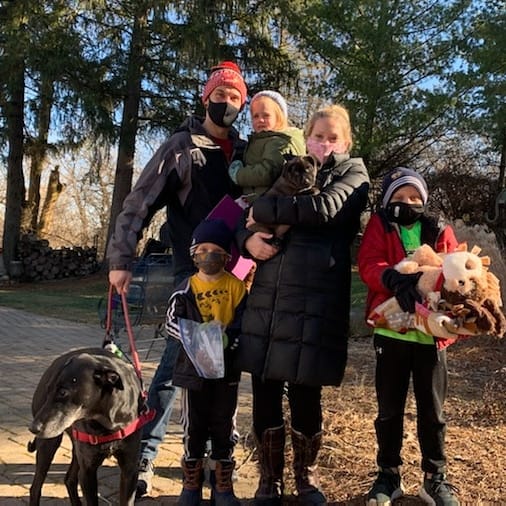 Fostering and Taking Care of the Puppies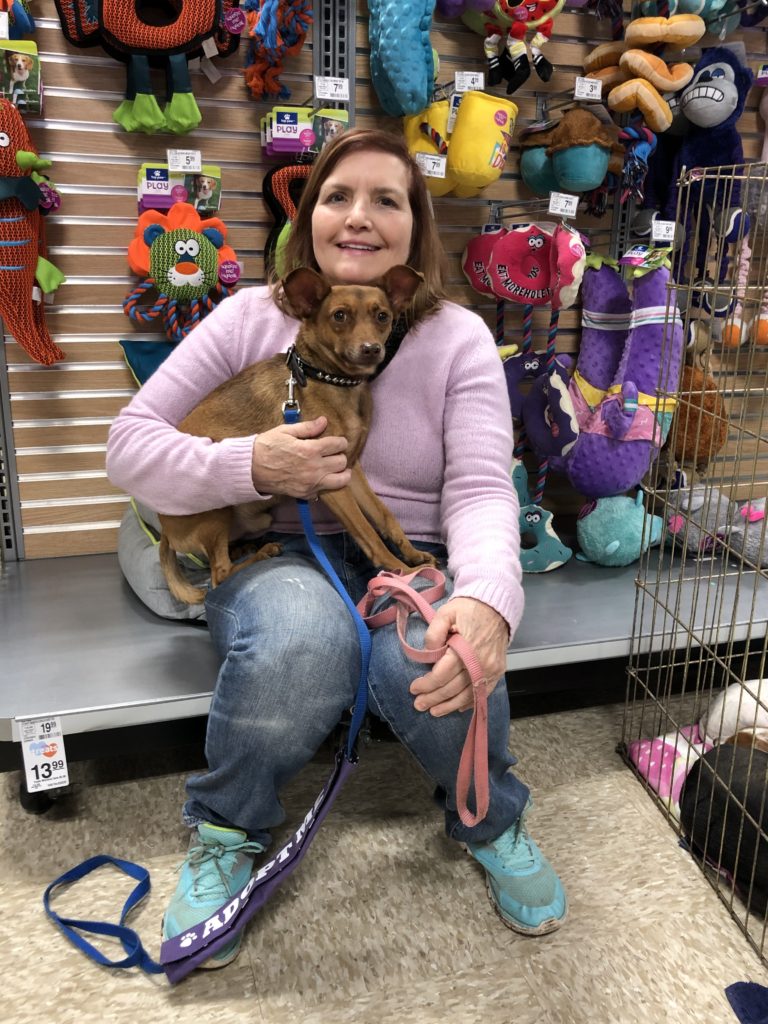 Looking back at her time taking care of Kara, Krypto, Kobe, and Karma, volunteer foster mom Carol said, "Darcie's coaching when they were born…on how to feed them and take care of them kept them alive…is one of the valuable aspects of being part of a community of fosters at A.R.F. We are not alone."
Carol looks forward to fostering her next litter of puppies, saying "I have probably had 30 dogs in the last couple of years. Being a foster is fulfilling and rewarding."
You too can become a dog foster like volunteer Carol, and care for adorable puppies or dogs, cats, or kittens, in your home. A.R.F. saved nearly 400 dog lives in 2020, and Kara, Krypto, Kobe, and Karma were just four of them. Can you help us save more rescue dogs in 2021? Learn more about how to foster a dog or puppy with A.R.F., or fill out a dog foster volunteer interest form.
Ways to Help Homeless Dogs and Puppies like Kara