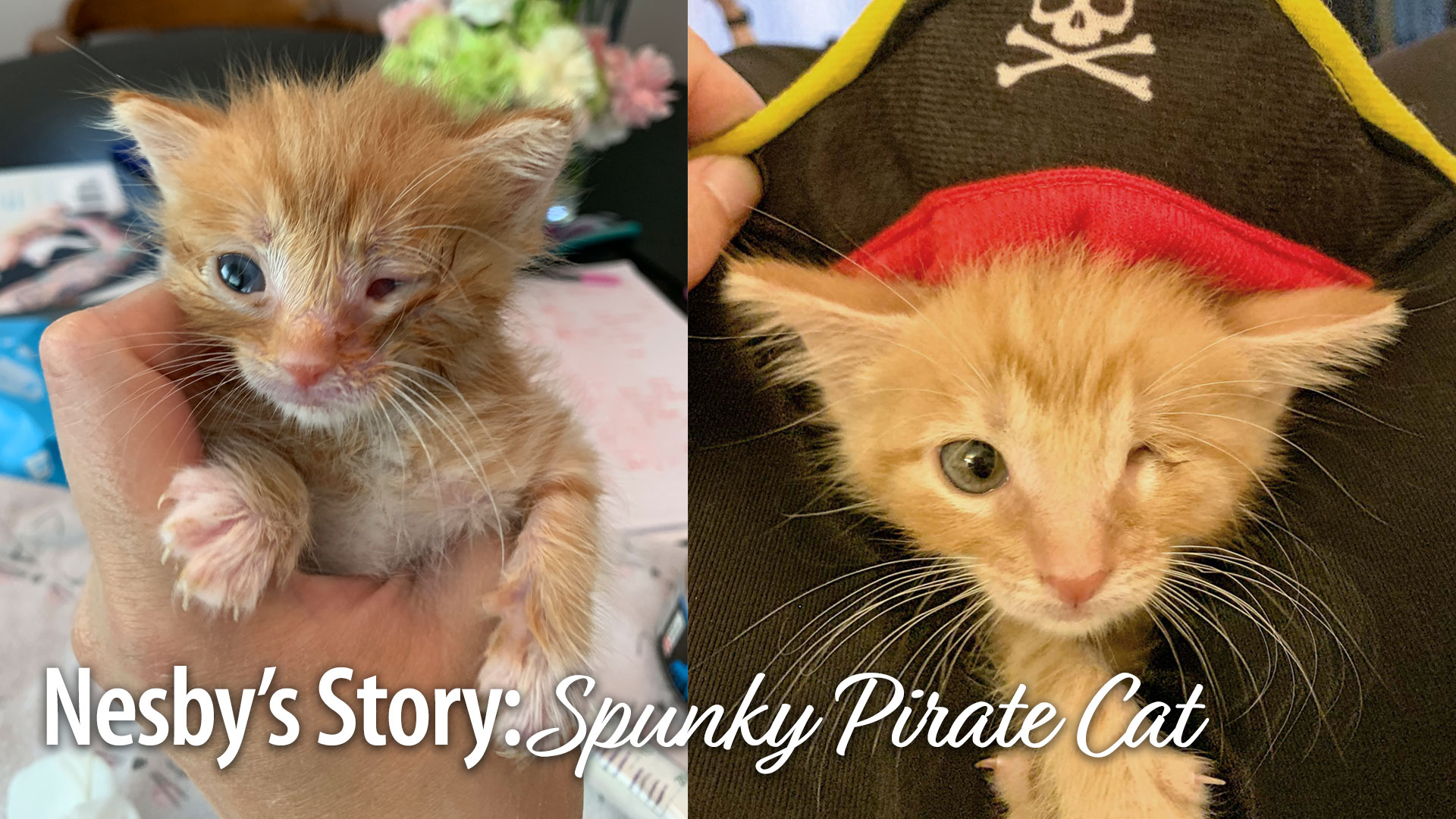 Nesby's Story: Spunky Pirate Cat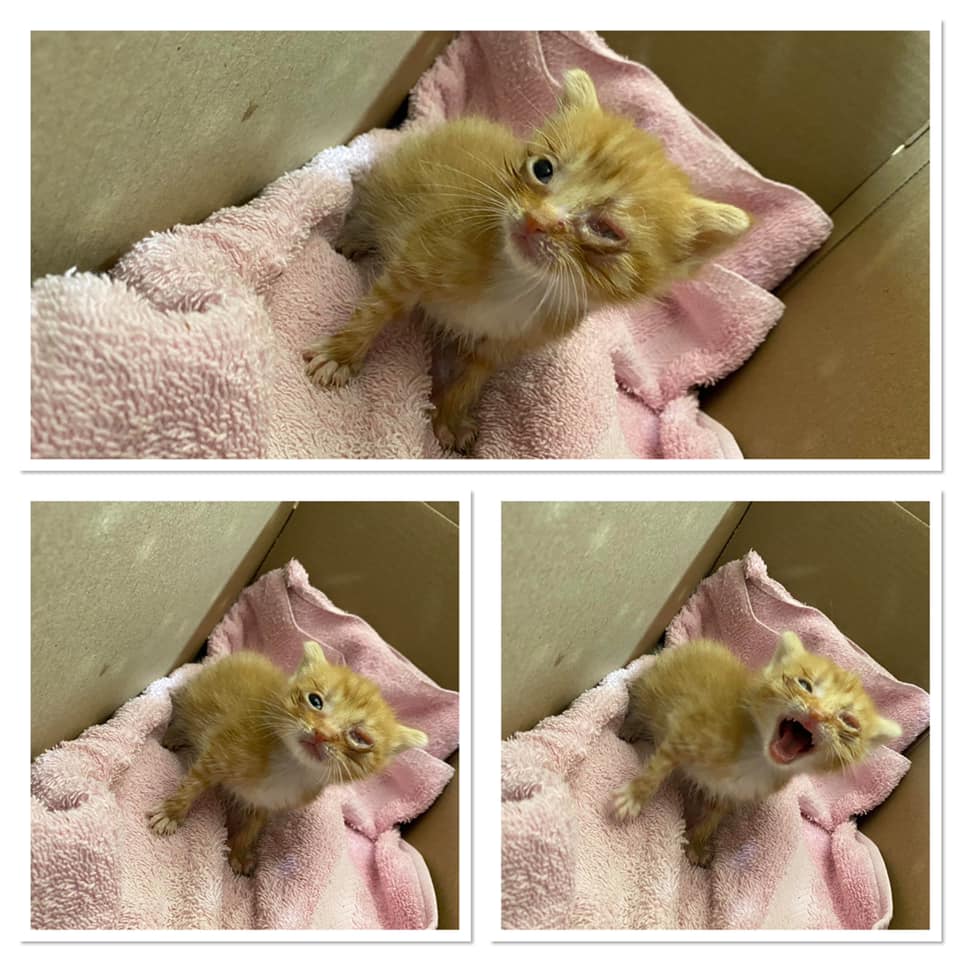 Meet Nesby. Nesby was found as a stray four-week old kitten in the Little Village neighborhood of Chicago and taken to Chicago Animal Care and Control (CACC). However, it was soon clear that she was too small and weak from an infection to be left alone overnight; her eye was very swollen and red. So the CACC caretakers put out an SOS on Facebook — A.R.F. volunteers rushed to rescue her that evening and met her transport in an empty parking lot in Oakbrook.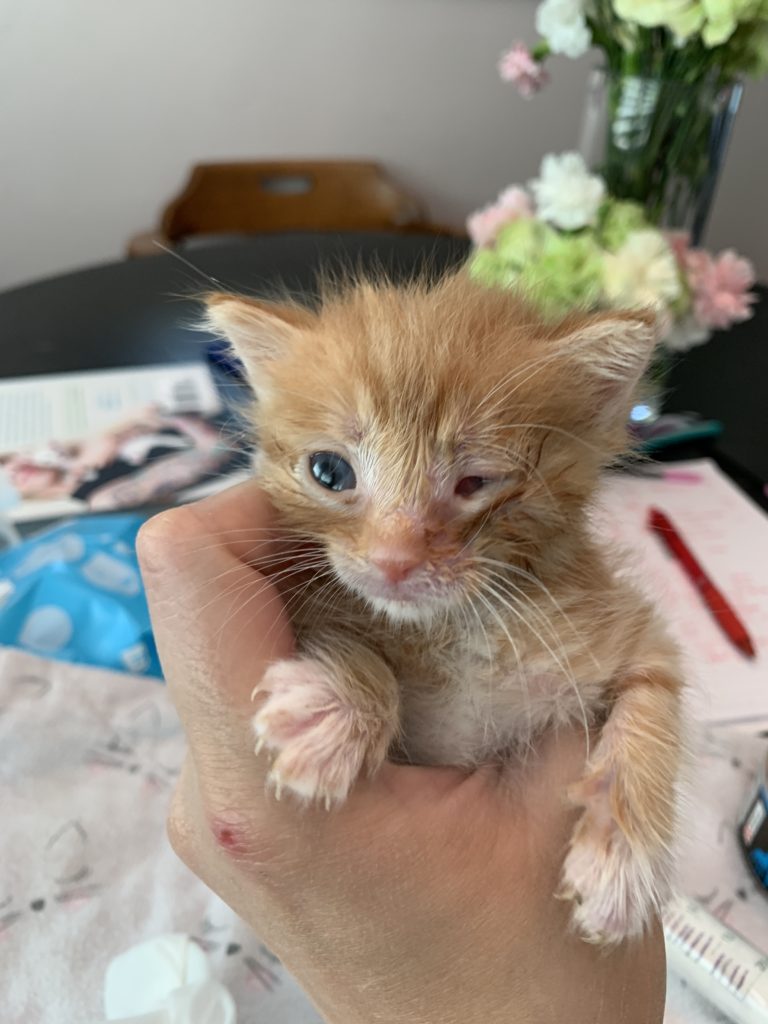 Back at her A.R.F. foster mom's house, things weren't looking good for little Nesby — she had a nasty upper respiratory and eye infection, was dehydrated, and she wasn't eating or drinking. Our tireless foster mom bottle-fed and eventually tube-fed Nesby every 2-3 hours to get the strength back up in her little half-pound body.
Nesby on the Mend
After the first day of feeling better, Nesby's spunky personality started to show through. It was clear that she was a fighter, and would chase any cat toy that crossed her path. She loved being around people, and would attempt to jump out of her cage any time somebody walked by. Even from a young age she was a "neck cat" and would wrap herself around her foster family's necks and quickly fall asleep whenever possible.
The vet at VCA Naper Ridge called Nesby a "spitfire" on her first visit and even though she was given antibiotics and continued to improve, she eventually lost her eye to the infection. It is a little bit easier to sneak up on her, but it doesn't seem to slow her down. She has a perpetual wink ;-), looks great in pirate hats, and even has a wide-eyed look when she is getting ready to pounce.
Nesby in Her Forever Home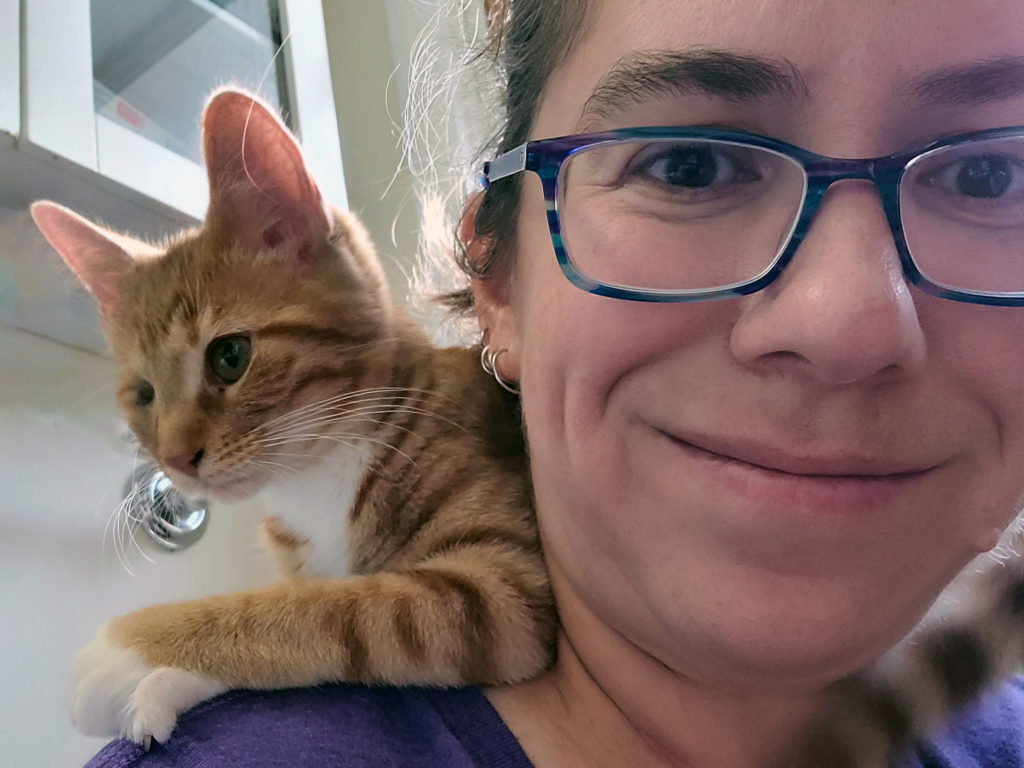 Today Nesby lives with her new family, Kelly and Mike. They just love her one-eyed delightfully awkward antics including chilling in the garbage can, sleeping on their heads, getting into sparring matches with the bathtub drain, and generally being the best cat ever. Kelly and Mike also foster cats and kitten for A.R.F., and Nesby acts as a great big sister for the foster kittens. She teaches them "how to cat" in an adorable, no-nonsense way.
Watch her video below for some of our favorite Nesby moments of her short six month life. Here's to many more months and years of Nesby antics!
Nesby's first six months in this world have been difficult ones, but she is now a happy silly kitten with a loving forever home. Without A.R.F.'s volunteers and medical treatment, Nesby would have never made it out of the Chicago shelter. Can you help A.R.F. make more happy endings like Nesby's a reality for more cats in 2021? Make a donation today.
Ways to Help Homeless Kittens like Nesby
Post written by: volunteer Katie Glaudell, freelance copywriter