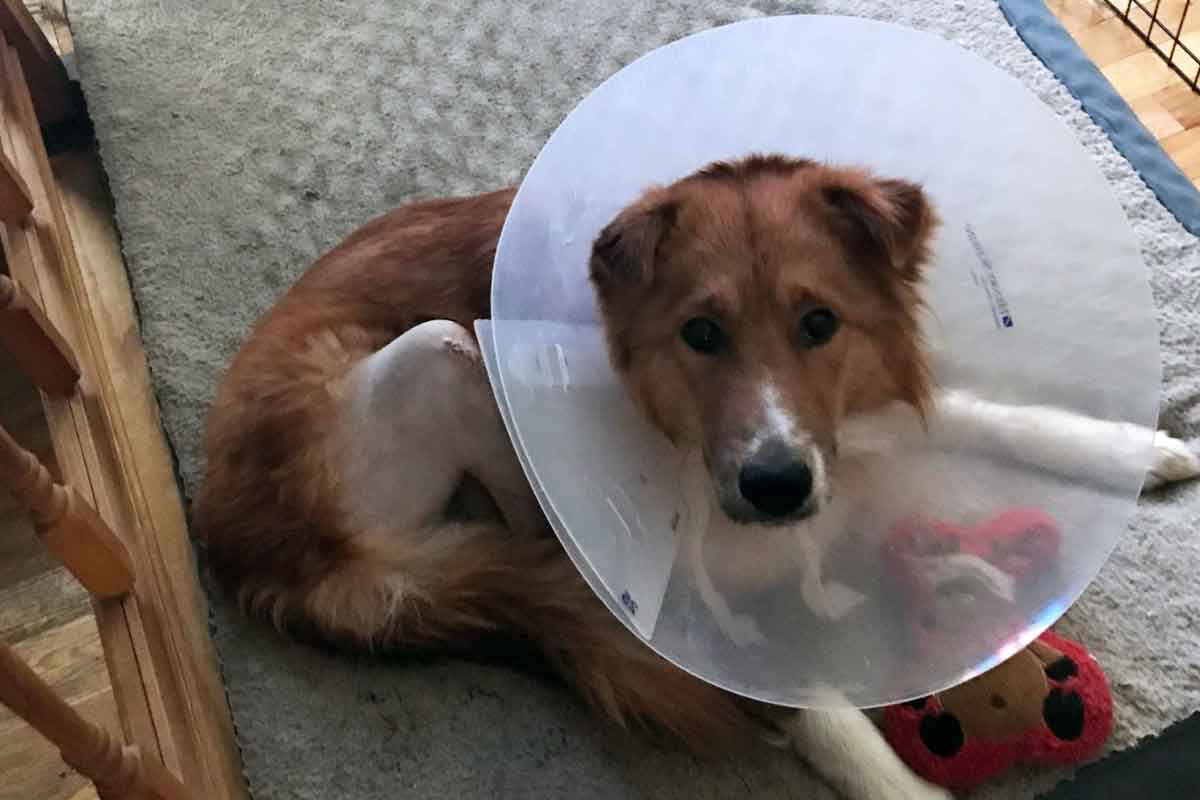 Let's Get Guinness Walking Again
UPDATE 6/15/19: Guinness was adopted! His treatment was successful and his new family looks forward to many walks with him.
Meet Guinness. He's had a hard life, including a painful broken leg that hasn't healed right.
We are raising funds through GoFundMe to pay for Guinness's surgery, future physical therapy, and possible future surgeries to correct his leg and give him back the gift of walking. Excess funds raised from this fundraiser will go toward other animals in need.
Guinness's Injury
When Guinness was found as a stray it was obvious he wasn't walking right – his right rear leg was turned outward and he was limping in obvious pain. His kneecap was dislodged and in the wrong place. We don't know how his leg was broken, but we suspect it was abuse. He's had a hard life for a 10-month old puppy.
We worked with the animal shelter in Kentucky that rescued him to bring Guinness into our rescue for treatment and eventual adoption.
The Surgery and Treatment
Guinness had surgery in early March to rebuild his knee, move his kneecap into the proper place, and straighten out his broken leg. His future is still unsure, as he needs extensive physical therapy to see if he can properly use his leg again. If the physical therapy doesn't work, he might need additional surgeries or his leg might need to be amputated.
After his surgery Guinness is good spirits and is recuperating well at his foster mom's house. He DOES NOT like the cone of shame the vet makes him wear to keep from chewing his stitches. He has to hop everywhere, and his foster mom carries him down the stairs (which is very humiliating for a beautiful dog like him). He can't wait to be able to play outside again when it finally warms up.
More about Guinness
This 10-month old sweet sweet boy was found as a stray in Kentucky. He's had a hard life for a pup so young, but he is a sweet dog who has a lot of love to give. He is learning from his foster dog sister to play tug-of-war and how to chew on chew toys properly. He loves to be around his foster mom and will sit on the couch and wiggle in anticipation of her coming home.
Guinness will be available for adoption after he is fully healed. If you are interested in Guinness, please visit read our adoption policies and to submit an adoption application. Due to a high volume of applications, we are often unable to respond to questions until your application has been approved.