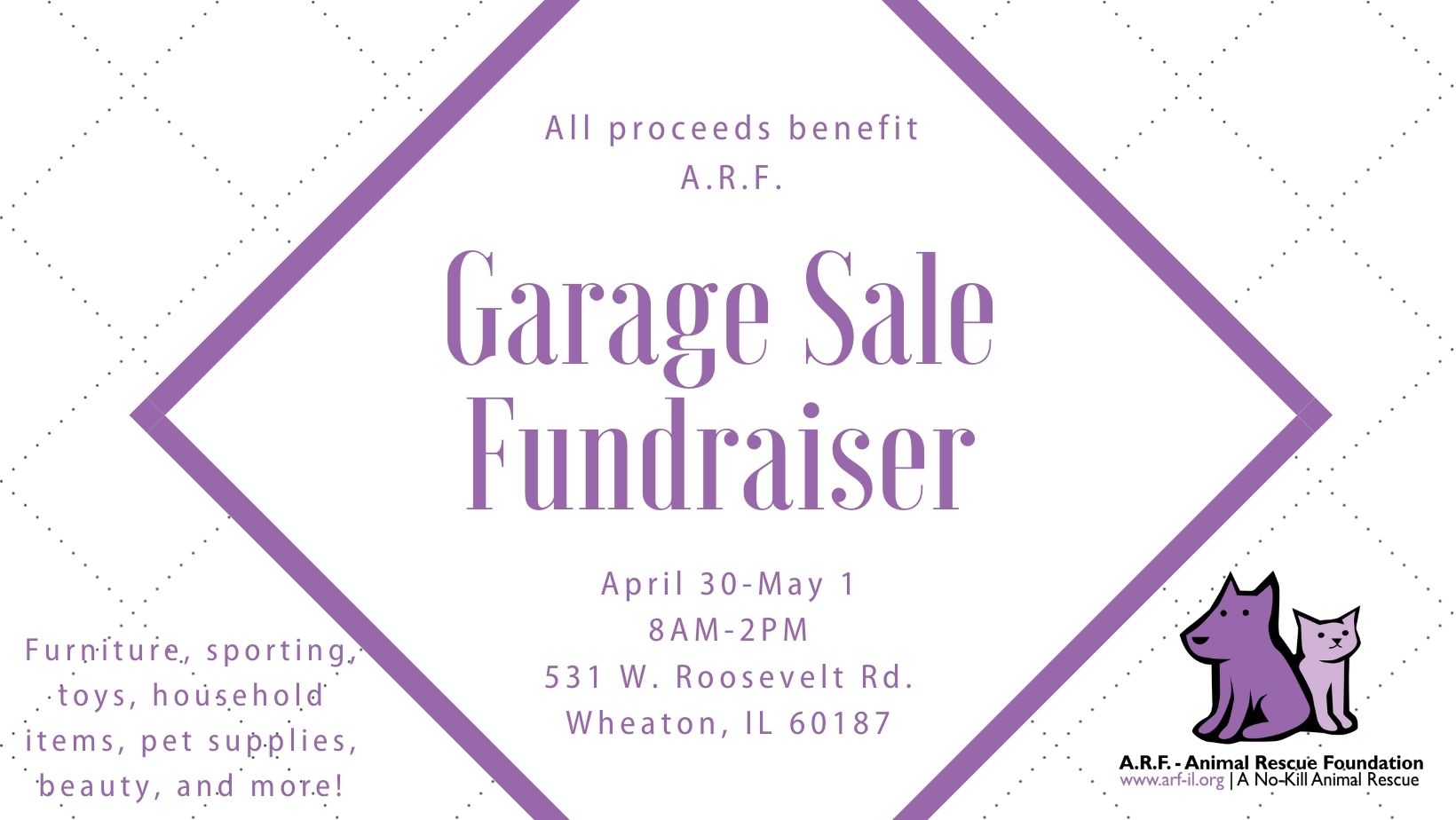 Spring Garage Sale Fundraiser – April 30-May 1
UPDATED 4/28 WITH NEW ITEMS!
Our most-anticipated fundraiser this year is back and bigger than ever at our new location!
What: "Garage" Sale Fundraiser to benefit A.R.F.-Animal Rescue Foundation
When: April 30 – May 1, 2021. 8:00 am – 2:00 pm both days
Where: 531 W. Roosevelt Rd, Wheaton, IL.
Come out and get your deal on and help raise some money for A.R.F.-Animal Rescue Foundation. This fundraiser features new items donated from a certain big box store, including items such as: housewares, kitchen appliances, furniture, electronics, toys, baby supplies, auto supplies, games, pet supplies for all furry friends, pet costumes, and more!
Items are sure to go fast, so get there early for the best deals. Sorry, adoptable cats and dogs will not be there.
For the safety of everyone…please wear a mask and use hand sanitizer before entering. We reserve the right to limit the number of people "in" the sale area, but don't worry, it's outside in a parking lot so not a small location!
TONS OF NEW STUFF donated by a big box store (and yes, old too!). Cash or Credit ( 3% fee for credit charges apply). Below is a small listing, and new items are being added every day.
Baby and Kids:
Enfamil, Similac, and Kirkland formula 
PediaSure cans
Toddler formula
Kids' Tylenol
Toys for girls and boys, most new in boxes: LEGO, Disney Princesses, Mickey/Minnie, Thomas, Trolls, Batman, Spider Man, Marvel, Nerf, Fisher-Price, Play-Doh, My Little Pony, Barbie, card games, toddler education, art and craft sets, books, and more! 
Small Appliances:
Instapot and other pressure cookers
Air fryers
Hot water pots
Slow cookers
Rice cookers
Toaster ovens
Nespresso – machine and pods
Humidifiers
Beauty and Personal Care:
QUENCH MICRO WATER COMPLEX line (moisturizer, body peel, facial scrub, night relief, body souffle)
Body Soap like Dove/Irish Spring & Kirkland Bar Soap, Honest Co.
Shampoo/conditioner by, Pantene, Nexxus, Argan, Pura d'or
Razors
Men's Deodorant
Women's Deodorant…Secret and Dove!
Face cream/eye creams like Olay, Seravital, STRIVECTIN
Minoxidil for your hair
Quit smoking Nicotine gum
Lotions: Amlactin, Cetaphil, Honest, Kirkland, SebaMed, SK-II (retails for $199, ours a fraction of the price)
Bug spray: Greenways ORGANIC (DEET free), OFF!
Sunscreen/suntan lotion
Feminine hygiene – Always
Food IN PACKAGING:
Coffee, whole beans, ground, instant
Pantry basics: rice, oats, honey, coconut oil, cereal, agave, honey, flour, sugar, seasonings and more
Annie's mac n' cheese,
Protein powder (Vega, Whey)
Muscle Milk cans
PB Powder
Fryer oil
Canned food
Water and beverages: Hint water, pH water
Pistachios
Household:
Cleaning stuff (Bleach, Lysol toilet bowl)
Detergent and Fabric Softener
Dish Soap
Lawn care: weed-n-feed, fertilizer, WeedClear, Miracle Grow, potting soil
Down alternative comforters
Yoga mats, muscle rollers
Folding camping chairs
Pet Supplies:
Pet grooming – shampoo, combs/brushes
Leashes, collars, and harnesses for all sizes
Pet clothing and costumes for all seasons
Food dishes and food storage, drinking foundations, puzzle feeders
Fish tanks and crab habitats – glo fish sets, reptile starter kits,
Dog toys and training
Small critter cages and supplies
Pet beds, big and small
Dog crates, kennels, and sherpa bags
Heater cargo beds
Wooden crates
Health:
VITAMINS and SUPPLEMENTS like C, D, krill, fish oil, One a day, CoQ 10, calcium, Multi Gummies, and more
Allergy and Cough and cold (Kirkland Mucus relief, Allerga, Claritin, Zyrtec, Flonase, Robistussin, Benadryl EmergenC, Ricola, and more
Pain relief like Advil/ibuprofen, aspirin, Tylenol/acetaminophen
Topical pain relief like BenGay and Salon Pas
Digestive health like Benefiber, Kirkland, Metamucil, Miralax, Culturelle, and Align
Flushable wipes
Other:
Fire extinguishers
Car cleaning supplies, oil
Sports memorabilia – Cubs, Bears
Sunglasses: Champion, Puma, Eddie Bauer
Face masks and hand sanitizer
Wall art – framed, paintings and photo prints
Fold out wood-framed white boards
Tables for homeschool
Ford/Nissan auto parts – window regulators
RV parts: inverter, waste tube, and gravity guide
New with tags women's XS and S clothing and bathing suits
Security camera system
Portable grills
TV wall mounts
…and so much more! Check out last year's setup to get an idea of what we'll have, this year is even bigger.
There's something for everyone! Come see us! NEW LOCATION! 531 W. Roosevelt Rd, Wheaton